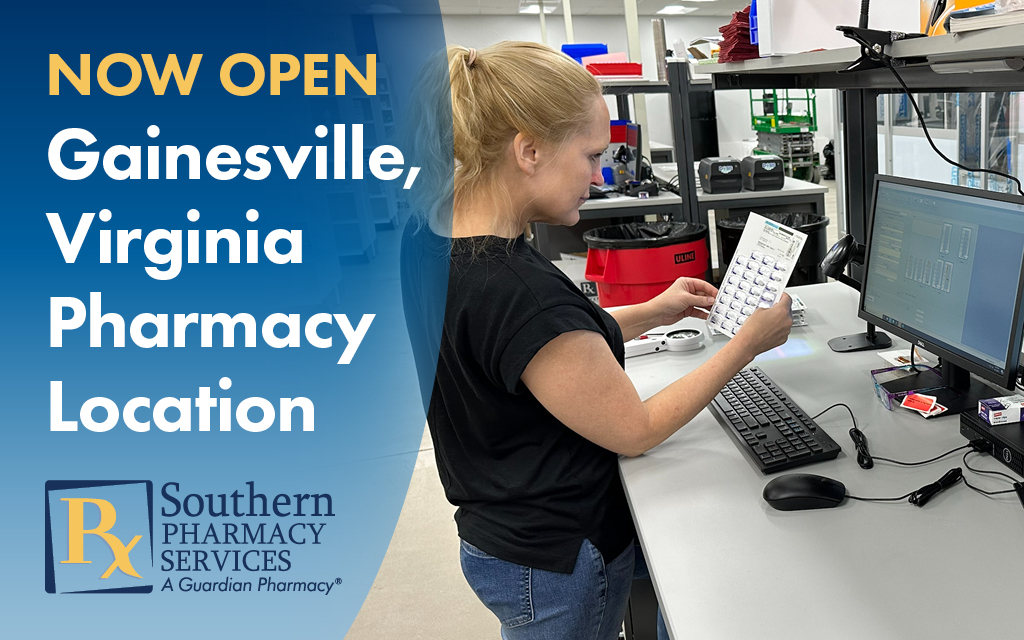 Southern Pharmacy Services, a member of Guardian Pharmacy Services, one of the nation's largest and most innovative long-term care pharmacy companies, recently announced the opening of its new location in Gainesville, Virginia. This strategic expansion enhances the company's service to residents in assisted living, skilled nursing, behavioral health communities, and individuals with intellectual and developmental disabilities in Virginia and Maryland. Through its pharmacies in Wytheville, Va., Kernersville, N.C., and Pink Hill, N.C., Southern Pharmacy Services currently serves residents across North Carolina, West Virginia, Virginia and Maryland.
In the past three years, Southern Pharmacy Services' has experienced substantial business growth in Virginia, where it has increased its customer base by more than 50%. The new pharmacy will expand Southern Pharmacy Services' workforce by 10%, hiring pharmacy staff in the coming year.
"We've experienced tremendous demand for our services in eastern and northern Virginia over the past several years. The Gainesville pharmacy allows us to deepen our connections and provide enhanced service to local communities in these markets," said Marybeth Terry, co-president of Southern Pharmacy Services. "As we celebrate our 20th year in business, opening this pharmacy is a special milestone. We're grateful for the continuous customer support that has driven our growth, and we remain committed to providing high-quality pharmacy services to help our communities deliver exceptional resident care."
The 10,500-square-foot facility will house a training center to provide in-service and clinical instruction courses for community staff members and pharmacy employees, along with a USP-797-compliant clean room for compounding medications and distributing IV services. The pharmacy will also feature the latest technology and automation systems, including a SynMed ULTRA packaging machine to help staff accurately and efficiently prepare residents' medications.
As part of the Guardian Pharmacy Services family, Southern Pharmacy Services benefits from the company's local-autonomy business model. This industry-unique model ensures that the local pharmacy team can focus on customer service to meet the specialized needs of the communities, residents and individuals they serve, while Guardian's Corporate Support Team assists with the many complex behind-the-scenes business functions, including data analytics, HR, IT, payor relations, national sales and more.
Founded in 2004, Guardian Pharmacy Services has 43 locations serving 33 states.