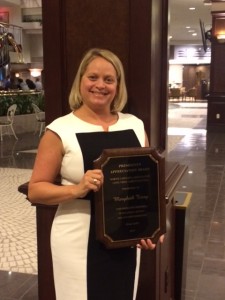 The staff at Southern Pharmacy Services would like to congratulate our President Marybeth Terry for receiving the President's Award from the North Carolina Association of Long-Term Care Facilities (NCALTCF).  The highest honor given by the organization, this award recognizes an individual who has gone above and beyond to support the association, its members, customers and vendors.
An active member of the NCALTCF since 2003, Marybeth has served on various committees, taught numerous classes, and financially supported many regional and statewide conventions and meetings.  She has works in conjunction with the NCALTCF and its legislators to help shape current assisted living facility rules and laws and has assisted the organization with cost studies to help support the drive for pay increases.
In addition to her efforts with the NCALTCF, Marybeth played a role in the founding of the North Carolina Long-Term Care Pharmacy Association, a program aimed at helping long-term care pharmacies navigate the ever changing regulations and payment systems.
"Marybeth is the most compassionate person I have ever met," said Chad Terry, co-president of Southern Pharmacy Services. "She wakes up every morning and strives to do her best, whether it's taking care of residents, fostering dogs, helping an employee, or caring for her family.  Southern Pharmacy Services would not be the business it is today without her determination, passion and perseverance.  I am truly blessed to have her as a wife and a business partner, and our staff is blessed to have her leadership."
Marybeth and the staff at Southern Pharmacy pride themselves on their motto: old-fashioned values, innovative ideas. The team works every day to go above and beyond for customers, partners, and colleagues alike.
Congratulations on this great award, Marybeth! Southern Pharmacy Services thanks you for all that you do!