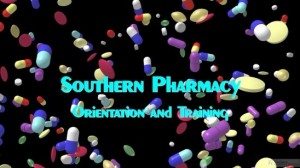 Southern Pharmacy Services has developed a number of video training programs to help introduce the company and its corporate culture to new employees. Presented to the newcomer on his or her first day, the three-part package begins with a "Welcome to Southern" video hosted by company presidents Marybeth and Chad Terry. A second program follows the typical order through various departments of the pharmacy, while the final section provides an introduction to the different types of care facilities the pharmacy works with and the services provided to each.
Other SPS programs demonstrate new medical technologies to customer facilities including elastomeric IV pumps and the Omnicell automated medical storage cabinets.
Future projects will include job specific training on the Framework pharmacy information system and the Dosis dispensing robots.
"I've always marveled at the power of video to help demonstrate processes," said Bob Saturn who is leading Southern Pharmacy's video training initiative. "Today's technology permits us to have high-definition cameras, quality audio, screen capture software and high-end video editing capabilities at a very reasonable cost. Audiences expect professional looking, interesting and helpful programs and we can deliver them cost-effectively. The video medium adds an important dimension to our training programs. Visual learners especially appreciate the additional learning channel to aid their success at Southern."