Salemtowne, the Moravian retirement community in Winston-Salem, North Carolina built a brand new, state-of-the-art skilled nursing facility on their campus.
In order to open this month, the staff has been planning and preparing for years. So how do you move 80+ nursing home residents, their possessions and medications and have everything and everyone end up in the correct place?
While the Salemtowne staff carefully transported the residents to their new homes according to a well thought out schedule that had to account for meals, treatments and med passes, they relied on Southern Pharmacy to handle the movement and reuniting of the meds with the residents.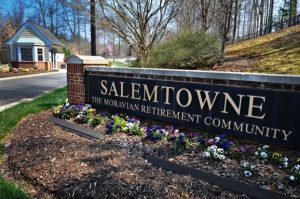 A pharmacy team was assembled consisting of Sarah Lynch, Director of Sales and Customer Service, Pam Williams, Customer Service Manager; Anne Dunn, RN, Nurse Consultant; Cecil Davis, Pharm D, Assistant Director of Operations in Kernersville and Bob Saturn, Corporate Communications Manager. With the help of members of the pharmacy's delivery staff, loaded med carts and a MedDispense automated dispensing machine were moved to the new location. Then, in a conference room staging area, the pharmacy team reorganized the medications in each cart so that resident meds would be in the proper cart for their new location.
The move was a complete success and by the end of the day, all the residents, their personal effects and their medication were in their new, beautiful surroundings.
"We really appreciate Southern's help with this undertaking," said Jay Mathews, the building's Administrator. "We relocated over 80 skilled nursing residents all of whom take multiple medications. Southern's participation made that aspect of the move seamless for us. We truly thank the pharmacy staff."