It has been a difficult six weeks for everyone. The disruption, altered plans and processes; business operations are nothing close to "as usual." But those on the front line of this crisis continue serving, caring for residents of nursing homes, assisted living facilities and other healthcare communities…giving aid to people who are especially vulnerable to Covid-19.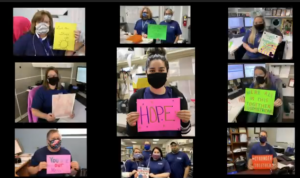 At Southern Pharmacy, we wanted to say "thank you" to the healthcare workers we serve daily, and to our own courageous employees who make Southern Pharmacy a vital contributor to this fight. Southern Pharmacy is there for you and will continue to support your communities and residents.
We asked each member of our Southern Pharmacy family to make a sign to express their personal words of encouragement to the caregivers. The link below will play our video "thanks" to these wonderful, selfless people.
Stay healthy. Stay safe.
Click here to view a video dedicated to healthcare workers. Thank you.