To help relieve the loneliness and boredom that the pandemic's quarantine restrictions have brought to the residents in our customer facilities, several of our employees have stepped-up to help.
The marketing/customer service teams created and distributed activity books filled with puzzles, coloring pages and praise books. Pens and colored pencils were included with personal notes containing words of encouragement.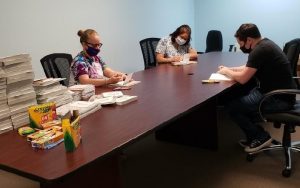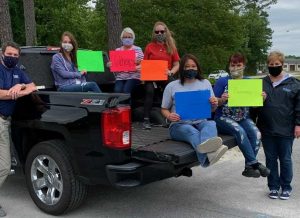 And not to forget Mother's Day this year, some of the Pink Hill staff staged a Mother's Day Parade for Lenoir Assisted Living, one of our long-standing customers. With the residents sitting outside the building, an SPS truck loaded with employees carrying their signs of good wishes drove by to give the residents a Mother's Day wave. Many residents' families joined in and made the event something really special, while bringing smiles to many faces.
Pink Hill also provided dozens Southern Pharmacy tote bags to Crystal Bluffs Nursing as they set up their COVID-19 isolation hall. Each resident in the hall was assigned a bag for personal items to help facilitate safety.